BROUSSARD, LA October 8th 2018 — Driving down Highway 90 heading to New Iberia, you'll notice that for every mile you drive, you'll see one or two oil and gas service companies. The oil and gas industry has been a major source of revenue and jobs for South Louisiana for decades, but with the large oilfield downturn that occurred in 2015, the job market took a huge blow with layoffs across the board. This wave of layoffs not only affected families of oilfield workers, but the cuts were so deep that it sent ripples throughout our entire economy affecting local small businesses across Acadiana.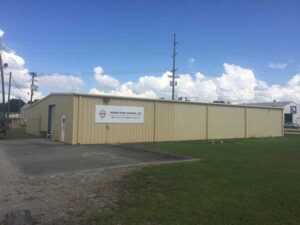 Now in 2018, we have begun to see the oil and gas industry making a gradual return to prosperity. However, if we learned anything from the abrupt downfall of the oil and gas industry, it was that diversification of our economy is key for growth and sustainability. We can't rely too heavily on one industry if we want to avoid another economic crash.
While the climate in Louisiana is not ideal for attracting new industries, due in part to tax laws in our state, Power Temp Systems, Inc. has made an investment in Acadiana with the recent opening of an assembly facility in Broussard, LA located at 119 Amy Rd. off of HWY 90.
Power Temp Systems, Inc. is a company based in Houston, TX that manufactures portable power distribution equipment. Established in 1991 as a supplier of specialized "built to order" products, Power Temp Systems, Inc. has since developed a complete line of standard portable power distribution products that use innovative technology, while maintaining quality, safety, and versatility. Their products are used in a variety of industries including construction job sites, petro-chemical plants, and military applications.
In 2014, Power Temp Systems, Inc. was purchased by a Mark Mire, Bret Adams and Ron Grant, all Louisiana natives. Since then, Power Temp Systems, Inc. has seen tremendous growth, requiring additional space and staff to meet orders. Earlier in 2018, Power Temp Systems, Inc. relocated their main manufacturing facility from the south side of Houston to a larger space on the north side of Houston; however, this additional space has not been enough to keep pace with their growth.
"Our growth has been so rapid, it's been difficult to find staff," said Mark Mire, Co-Owner of Power Temp Systems, Inc. "In order to solve that challenge, we decided to look for other areas where we could find the talents and skills we need. We knew Lafayette, LA would be a great fit, and it feels good being able to help our local community."
Currently, the Broussard assembly facility has three full time staff putting together the smaller products Power Temp Systems, Inc. offers such as Spider Boxes and Cable Assemblies. However, if things continue to grow at the pace they are now, Mark anticipates that that number could increase. "As of right now, we are using the new facility to assemble our high volume smaller product orders, but if things keep going the way they have been, we anticipate needing 30 employees." In addition to the direct jobs the new facility creates, Power Temp Systems, Inc. plans to outsource the construction of metal frames they use in their larger products to local fabrication shops, creating even more jobs in our area.
Those interested in learning more about current and future job opportunities with Power Temp Systems, Inc. should visit powertemp.com/careers.