Spider Box Power Distribution
A Spider Box is a portable power distribution box that is designed to be an economical way to distribute electrical power using a 250 VAC, single-phase power source. Typically, spider boxes are used to power tools and other equipment on construction sites, in disaster recovery efforts, and any other application where temporary power is needed. Regardless of where temporary power is required, spider box power distribution is the safest, most convenient way to provide electrical power to portable power tools, temporary lighting systems, and other electric equipment.
Best Electrical Spider Boxes for Job Sites, Harsh Environments
Spider boxes are among our most popular power distribution products for job sites. Due to the harsh environments that spider boxes are exposed to, Power Temp Systems designed the best spider box on the market.  Our electrical spider boxes are designed to be rugged, durable, and dependable.
These portable, temporary power spider boxes are tough. We designed and built them to withstand repeated transportation from job site to job site. See our article on How To Utilize Spider Boxes for more information.
For added flexibility, we offer spider box models in both straight blade (NEMA 5-20) and twist-lock (NEMA L5-20) receptacle configurations. Our spider boxes do require a power cable, adapter, or accessory to supply power to the unit from a portable generator or another source. For help choosing the right accessories, or to get a spider box wiring diagram, contact us.
Get A Quote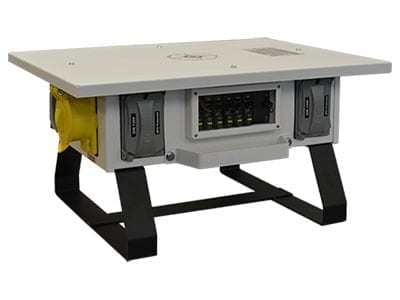 Standard Spider Box Features
50 Amp 120 Volt 1Ø power input.
High visibility OSHA safety red polyester powder-coated weather-resistant enclosure.
Heavy-duty steel construction with a reinforced stand that withstands abuse for long-lasting performance.
Convenient carrying handle.
Oversized top for added protection against the elements.
Weatherproof outlet covers on all outlets are labeled to easily identify electrical ratings.
Each 20 and 30 Amp outlet is individually breaker protected.
Weatherproof circuit breaker cover with UV rated Lexan window permits ease of viewing or resetting breakers.
"CS" (California Style) power inlet and outlet for feedthrough capability.
NEMA Type 3R weatherproof for outdoor use.
Available Spider Box Options
Custom colors.
Additional customization is available by request.