What are Power Distribution Boxes?
If power is needed across a long distance or within the hard-to-reach areas, portable power distribution boxes are a convenient, safe, and affordable solution. Portable power distribution boxes are built to last, allowing you to run electricity to power tools, lighting, and other electrical devices – wherever and whenever you want.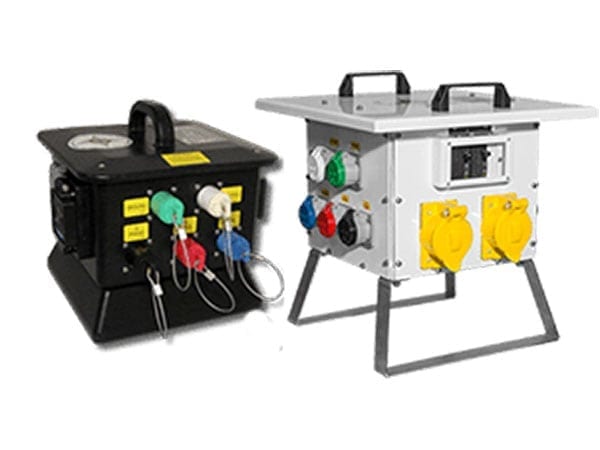 Portable power distribution box applications include:
Temporary power

Construction sites

Petrochemical facilities

Oil and gas

Indoor and outdoor events

Amusement parks

Disaster relief efforts

Entertainment
​
Power Distribution Boxes For Disaster Relief
Looking at one application of portable power distribution equipment that is relevant with hurricane season upon us, disaster relief efforts rely heavily on standby power and the distribution of that power to where it's needed. You're bringing power to where it isn't, so you need the right tools to get it where it's needed. There is a generator used as the main power source and now distributing that power to where it's needed is the issue. Power is needed in the field to help recovery workers in the community removing debris from streets and yards as well as making repairs to homes and buildings that are damaged and out of power.
Power distribution boxes are the answer for powering tools in the midst of relief efforts. They are available in sizes ranging from 50 Amp to 400 Amp. Quality portable power devices should feature a vulcanized rubber enclosure and self-closing, waterproof lid. Boxes should be able to efficiently distribute power while withstanding extreme conditions that may affect an outdoor project like lingering rain or floodwaters after a hurricane has just passed through an area. Power distribution boxes also need to be resistant to shock, impact, and corrosion due to the possible exposure to harsh environments and frequent relocation. UL-certified power distribution boxes are built in either an impact-resistant, injection-molded, weatherproof, rubber enclosure or powder-coated aluminum enclosure. The latter can be mounted on stainless steel legs or in a stainless steel frame with wheels. Both types are equally as resilient and useful in the field during disaster relief efforts especially with the messy conditions after a storm.
Small, Light Weight, Yet Durable
These small power distribution boxes often have a handle attached for easy carrying and legs that allow additional power distribution boxes to be stacked on top of one another. The aluminum legs are also great for keeping the electrical components above ground level to achieve NEC regulatory compliance. The compact design makes for easy storage and is perfect for operating in confined/awkward spaces. It's helpful to have a portable power distribution box that can provide UL, National Electrical Code, and OSHA-recognized power delivery solutions for indoor and outdoor applications in both the U.S. and Canada.
Moving from different locations with equipment is easier with smaller power distribution systems that are lightweight and easy to move. With disaster relief efforts, people are moving to different affected locations with power boxes to power the tools need to cut trees that have fallen on houses or make repairs to homes or buildings with major damage needing immediate action. Having safe portable equipment to power your tools makes recovery efforts much easier and more efficient.
Recently, Hurricane Michael roared ashore along the Florida panhandle, one of the most intense hurricanes to ever hit the United States. With winds as high as 155 mph, the Category 4 storm slammed coastal towns in the area, leveling buildings and structures, flooding streets, and leaving a trail of destruction. To help the recovery efforts after the devastating storm, Power Temp Systems collaborated with Convoy of Hope to help hurricane relief in Florida. We provided Convoy of Hope with power distribution boxes and cables to help the people of Florida recover and get back on their feet.  
With our Power Qubes, Spider Boxes, and Power Distribution Carts, Power Temp Systems has a variety of power distribution devices that can help you in any situation when you need power where it isn't. Power Temp Solutions is leading the charge with innovation and excellence when it comes to providing power distribution solutions for disaster relief efforts as well as many other circumstances.