Houston, October 25, 2018: Power Temp Systems' Smart Lug line of mechanical compression lugs is a multi-use mechanical lug designed to alleviate the problems associated with standard aluminum allen wrench lugs. PTS is extremely excited that the Smart Lug line has been approved for its U.S. patent. Power Temp Systems was issued Patent No. 10,096,935 for the line.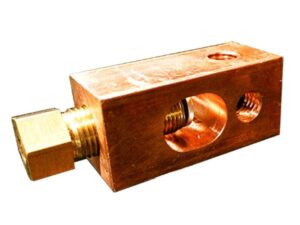 The Smart Lug can be used for a variety of applications that require wiring and unwiring cable on a regular basis. It can accommodate both bare ended or eyelet wires. It features an oblong shaped hole which makes connecting frayed cable easier allowing for greater torque and cable compression.
The lug bolt features a compression end with a patented spinning tip that stays in place as the cable is compressed. The tip does not twist or knurl the wire, extending the usability of the cable end and reducing the need to trim the cable ends after each use.
With the patent approval, Power Temp Systems, Inc. looks to continue to innovate the design of the Smart Lug and bring our groundbreaking power distribution products to new customers.
###
About Power Temp Systems, Inc.
Established in 1991, Power Temp Systems, Inc. is the original and largest supplier of internationally recognized portable power distribution products. Originally a supplier of specialized "built to order" products, Power Temp has since developed a complete line of standard portable electrical products. We use the latest technology to help maintain the quality and versatility that has come to be expected from Power Temp. All of our products are engineered and designed to meet or exceed all UL 1640, NEC, MSHA, OSHA, and NEMA standards for use in all environments and applications.