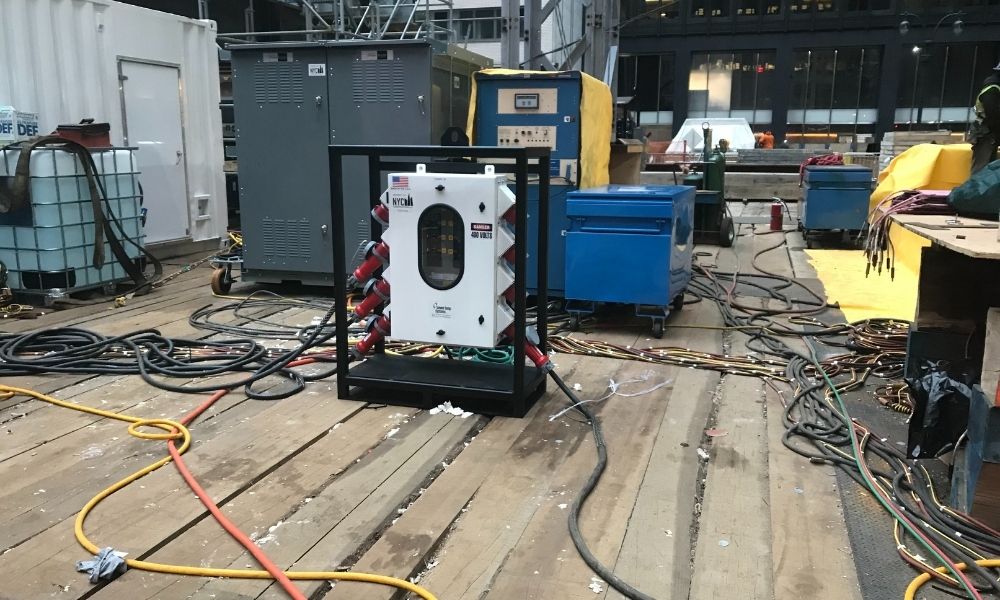 Whether you're hosting a fair or overseeing a construction site, ensuring you have suitable power distribution is crucial. For outdoor applications, you must invest in a system that can meet your power distribution needs while showcasing impressive durability to harsh conditions. This list of common applications for temporary power distribution boxes exemplifies their diverse, widespread uses.
Industrial Applications
Many industrial companies rely on spider boxes for temporary power distribution across worksites. For example, construction sites require temporary power supplies for various tools and heavy machinery. From saws to grinders, construction sites utilize many tools that need to source their power from somewhere. Spider boxes can distribute power for such situations thanks to their 250 VAC, single-phase power source.
A well-built spider box must provide reliable power distribution and a suitable defense against the elements. Suffice it to say that distributing power on a remote job site isn't easy, but using spider boxes makes the operation quicker and safer. For this very reason, Power Temp Systems offers spider boxes that can withstand frequent transportation and harsh outdoor environments.
Disaster Recovery
Temporary power boxes are essential for disaster recovery plans. If you need emergency backup power in case of natural disasters, spider boxes can help you accomplish that successfully. Our spider box power distribution units are built with heavy-duty steel, reinforced stands, oversized tops, weatherproof outlet covers, and weatherproof circuit breakers outfitted with a UV-rated Lexan window. Each of these components enables the spider box to distribute power in the face of natural disasters with its 250 VAC power source. Disaster recovery is one of the most common applications for temporary power distribution boxes because such a task calls for a durable, reliable device.
Events
Large outdoor events such as carnivals, fairs, concerts, and seasonal festivals require temporary power distribution for a bevy of reasons. From lighting equipment to vendor-specific gear, the logistics behind event power supplies require immense preparation. The aforementioned weatherproof attributes of spider boxes make them suitable for any outdoor event that needs to distribute power among multiple machines safely.
Besides outdoor applications, spider boxes can also conveniently provide power distribution for indoor gatherings such as business events. Once you know where your power generators are going, strategically designate where the spider boxes will reside to maximize system efficiency and space availability. With easy-to-maneuver tools like spider boxes, setting up temporary power is relatively quick and convenient.