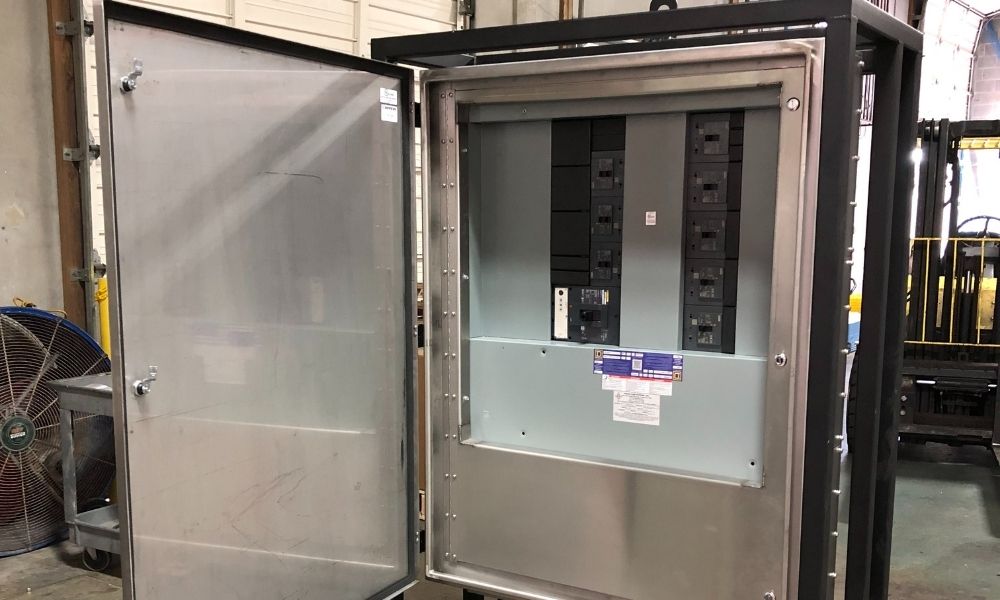 With portable power units, companies can easily integrate and manage temporary power for worksites. To accommodate unique worksite requirements, companies have to look for a reliable power unit that meets their specific needs. That said, because there are many different portable power units, knowing how to choose the best solution is something not everyone understands. Thankfully, learning what features they provide will show you when and why to use any given portable power unit.
Generator Paralleling Control Panels
Paralleling is a way of pairing two generators to offer more power support for your system. Furthermore, paralleling generators is invaluable to standby power systems, ensuring you don't lose all power if one generator fails.
Typically, paralleling can only occur between generators of the same type, size, and brand that come with parallel capability. However, via our smart control panels, you can parallel generators even if they don't have these capabilities. Our smart generator paralleling control panels also have remote monitoring capabilities. In other words, you can monitor individual pieces of equipment via your computer or phone.
When looking for generator paralleling panels, look for systems that offer easy access to various Cam-Lok inputs, Cam-Lok outputs, and hardwire outputs; these factors make the system more adaptable to your unique requirements. Additionally, these panels are available in 400–4000-amp configurations, ensuring they can support a wide range of power needs.
Through programmable load sharing, you can improve power supply efficiency by divvying up the electrical load. Investing in a generator paralleling control panel with load sharing capabilities ensures you can keep power output consistent and smooth. Another attribute to look for in generator paralleling panels is a durable NEMA 3R enclosure, which is capable of combating the elements impressively. Plus, NEMA 3R enclosures with powder coatings offer more durability and chemical resistance.
I-Line Panels
I-line panels perfectly suit applications requiring a particularly high power level. The benefits of square D I-line panels stem from their adaptability, simplicity, and wide range of power capabilities. In terms of power supply, square D I-line panels can provide 400–3000 amps and 208–600 volts.
Because our I-line products utilize square D distribution panels, you can add or remove circuit breakers easily. In fact, as you can see from our selection of I-line panelboard units, they also make output device installation simpler thanks to their removable gland plate. As with every portable power unit, always look for the right key features in I-line panelboards, such as 90-degree Cam-Loks and external grounding connections. The latter is crucial to your system's electrical flow.
Like paralleling panels, always invest in I-line panels with strong components. Polyester powder-coated steel racks and aluminum enclosures look clean (and remain that way) thanks to the coating's protective capabilities. In fact, our I-line panelboards can come with optional heavy-duty swivel casters and aluminum racks, expanding functionality while retaining the durability available in the steel racks. Look for I-line panelboards with forklift or pallet jack compatibility and sufficient breaker space to maximize convenience. Whether you need 45" or 90" of breaker space, always double-check what any given panelboard provides.
Portable ATS
A portable automatic transfer switch (ATS) is crucial to activating emergency generators. When the main power source fails, you'll need a means of generating power successfully—this is where a portable ATS comes into play. Instead of relying on multiple power sources to provide the voltage you need, our portable ATS with automatic voltage selection offers one source for producing enough power. Our portable ATS can provide anywhere between 208–600v to suit your needs.
Furthermore, Power Temp Systems' portable ATS features built-in automatic voltage selection capabilities. The automatic selection system identifies the voltage levels moving through the panel, prompting the ATS to adjust the control voltage transformer accordingly—providing an efficient and reliable power solution.
The addition of 45-degree Cam-Lok inputs on portable ATS systems allows easy access for the aforementioned interchangeable connector. Between the Cam-Lok inputs and automatic voltage selection, portable ATS units are adaptable, versatile tools for power distribution.
Beyond these benefits, Power Temp Systems' portable ATS units come with our patented Smart Lugs, offering an effective alternative to your average aluminum Allen wrench lugs. Smart Lugs are multi-use mechanical compression tools that accommodate routine wiring/unwiring requirements. If you have to wire or unwire cables frequently, the Smart Lug's spinning tip ensures your cable doesn't knurl during compression.
Portable Load Banks
When you require portable load banks, finding units with immense features and customizability is key. For example, our portable load banks are an all-in-one package that provides you with transfer switches, output receptacles, and breakers on one mobile platform. Furthermore, there are certain specs you can alter to fit your needs.
For example, you can opt for an automatic or manual transfer switch—whichever option fits your specific requirements. Likewise, you can invest in a portable load bank system with selectable 240v or 480v options; once again, this creates a means of adapting to various client applications. In other words, don't compromise customizability for helpful features—there are portable banks available offering both attributes successfully.
A good load bank offers a reliable way to accommodate loads for outdoor applications, which call for a special level of protection. With these devices, you can test power supplies outdoors without constantly worrying about corrosion from the elements. Although load banks are commonly permanent installations, these portable options offer a suitable choice for those with temporary power supply testing needs. Reliable portable load banks should come with fork pockets at the bottom, offering easy access for forklift operators.
The market is full of different portable power units; how to choose the best solution comes down to matching the right device to the right application. Now that you understand the essentials, you can more easily narrow down your portable power unit search. Understanding how any given power unit functions both inside and out is the best way to determine whether it's right for you. For this reason, you should always partner with professionals who focus on custom solutions to your power needs. That way, you can effectively design and integrate the power unit into your current setup without compromising the whole system.