Keep The Power On Without Breaking The Bank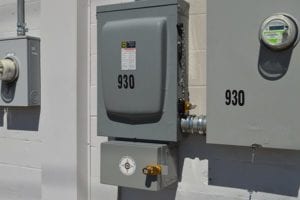 When your business loses power, do you have a temporary power plan in place to prevent extended shutdowns? Emergency preparedness is a critical component of safeguarding your business. Most businesses think that means spending a chunk of their budget on a permanent standby generator. For some businesses, there is simply no room in their budget for a permanent generator. Rather than facing outages or scrambling for last-minute electrical work, we're here to reassure you that there is another option that can fit into your budget. A generator tap box provides quick connection capabilities to get your facility back up power within minutes. The generator tap box is permanently mounted to the building exterior. With a tap box, you can rent a generator for when needed and simply connect it via the tap box. Tap boxes make connecting or switching power supplies simple and easy. 
Great For Small Businesses
For smaller businesses, tap boxes can play an extremely important role in their emergency preparedness plan. Tap boxes can make your facility generator-ready, and save you from paying the daunting costs of hiring a last-minute electrician to connect your temporary power source. It pays to be prepared, especially when your business relies on it.
For example, tap boxes could be ideal for a small grocery store in an area susceptible to hurricanes. Without a standby generator, a grocery store could lose not only its inventory in the cold and freezer sections but also the other temperature-sensitive items in the store. In situations like this, there's a critical window of time in which power needs to be restored before a business risks losing inventory and money.
Protect Your Inventory
Aside from the risk of losing a large chunk of your inventory during an outage, the other factors necessary to restore power without a tap box begin to add up. First, you factor in the extra time needed to connect a rental generator without using a tap box. The extra time needed to connect a generator without a tap box only increases the risk of losing inventory. The window of time in which you're able to save your frozen and temperature-sensitive only gets smaller. You also spend an unnecessary amount of money paying for last-minute, emergency electrical work. A generator tap box would more than pay for itself after only one use to restore power. With a tap box, everything in your emergency plan is pre-planned, pre-wired, and procedures are in place. Your emergency preparedness plan is now as simple as plugging in your rental generator yourself. 
Power Temp Systems' Generator Quick Connect Tap Boxes are equipped with industry-standard Cam-Lok connection points that allow your staff to quickly and safely connect a generator without the need for an electrician. Our wall-mounted generator tap box has been designed to allow the safe integration of a portable generator.
To learn more about Power Temp Systems' Wall Mounted Generator Quick Connect Tap Box and how it can save your time and money, contact the power distribution experts at PTS.