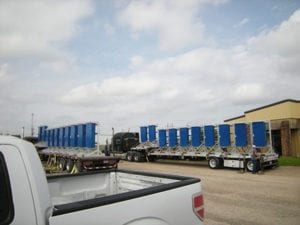 Power Temp System's I-line panels might just be the most versatile power distribution panel available on the market today. Our I-line Panels are capable of operating at voltages of 208V thru 600V and are available in sizes ranging from 400A up to 3000A. They feature the unique Square D I-Line Style Panel Board system that allows you to add and subtract circuit breakers easily in the field. The circuit breakers ratchet firmly onto the I-Line bus stack, and then captive retaining screws secure the circuit breaker to the back panel. Our I-Line Panel series utilizes our modular, removable gland plate system for ease of outlet exchange. With only a screwdriver and without hassle, you can modify the panel to fit your particular application whether its a 15A or a 1200A circuit breaker.
Our standard I-line Panels are innovative and efficient in their own right, but recently we were approached by one of the biggest rental companies in the south to build a fleet of our panels modified to meet the needs of their on and offshore customer all in one unit. To meet these requirements, we built a special fleet of I-line Panels.
The minds at Power Temp worked with our client to add and modify features of our I-line Panels that would make these units a feasible option for onshore and offshore customers. These customized I-line Panels needed to be more efficient for on the fly changes and durable enough to endure above average use.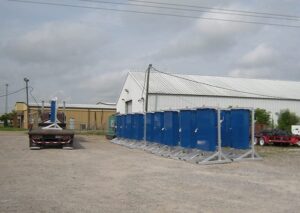 To increase durability, we built these customized I-line Panels onto an extra wide aluminum frame, 56-inches wide to be exact. We rigged these panels with an aluminum skid with extra wide forklift brackets. The wider brackets make the panel easy to move for transfer between onshore and offshore jobsites. The skids on the panels were also built to pull certifications, so it can be on and offloaded for offshore use by a forklift safely at any jobsite.
The true ease of these modified I-line Panels is what makes them so appealing for anyone in need renting a breaker panel. The ease of these I-line Panels is the swingboard panel on the unit. It gives the user easy access to the breaker panel to set breakers to their specific needs while still protecting the wiring inside the panel. The swingboard is latched on to the panel rather than screwed, which makes performing breaker adjustments in the field simple and quick.
The electrical gurus at Power Temp System built these custom I-line panels specifically for our customer's rental inventory need, and we are capable of making custom I-line panels that fit your project's specific requirements too. No matter what the project calls for, the experts at Power Temp Systems can work with you to create the equipment you desire. Contact the sales team at Power Temp today in order to learn more about how we can create custom power distribution solutions for your next project.