Electrical safety before during and after a hurricane can save lives. During hurricane season, general preparedness is crucial but understanding how to properly handle all electrical equipment before, during, and after a storm is understated and just as crucial to businesses and families alike.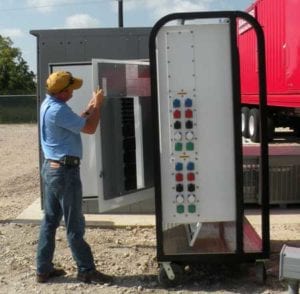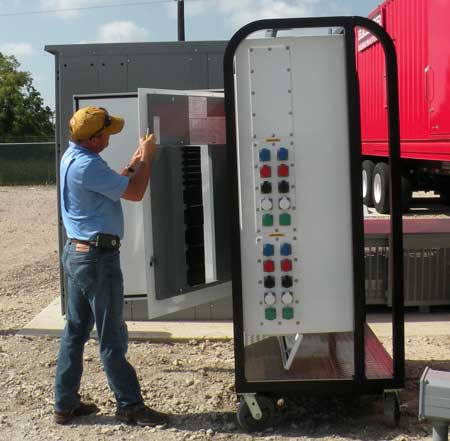 Leading up to a storm or flood, we want people to be mindful of and understand the potential dangers that exist whenever water encounters electricity. To keep electrical equipment intact and running safely, please keep in mind the following before, during, and after a storm rolls in through your area.
Before The Storm
Keep all phones and communications devices charging for as long as you can.
Move computers and other electronic devices to tables in the center of your home or business to avoid water damage from flooding or possible windows breaking.
Turn off circuit breakers prior to the storm arriving to avoid power surges.
When using a standby generator during the storm, ensure that a qualified electrician installs your generator with a UL listed transfer switch and ground fault circuit interrupter protection.
Finding an electrician to come out and set up your generator when a storm is approaching is nearly impossible. PTS' Quick Connect Panel is an affordable option to consider before a storm rolls in. It is designed to allow the safe and quick connection of a portable generator without the need for an electrician.
During The Storm
Never operate a portable generator inside your building or any confined spaces. The exhaust from a generator contains high levels of carbon monoxide, which we all should know is a poisonous gas that can kill in minutes if directly ingested.
Do not connect generators directly to a building's wiring unless an appropriate transfer switch has been installed by a licensed, qualified electrician. This is easily done if you have a Quick Connect Panel installed. The Quick Connect Panel takes away the need for an electrician to properly connect your standby generator to your building and gives you the ability to swap out generators quickly and easily.
After The Storm
Have a qualified electrician inspect any water-damaged electrical equipment and electronics before you turn them back on.
Electrical items, such as circuit breakers, fuses, receptacles, plugs and switches can all malfunction when moisture gets inside.
Have an electrician replace them if they have been submerged or exposed to moisture.
Do not touch a circuit breaker or replace a fuse with wet hands or while standing on a wet surface.
Report and stay away from downed power lines. Always assume they are energized regardless if power is out in the surrounding areas.
Never touch a person or object that is in direct or indirect contact with a downed power line such as a fence, tree limb, or water. Instead, call 911 immediately.
Avoid flooded areas as they may be electrified. Even nonconductive materials like wood or cloth that are slightly wet can conduct electricity.
If you smell gas, notify emergency authorities immediately. Do not turn on lights, strike a match or engage in any activity that could create a spark.
Before flipping a switch or plugging in an appliance or piece of equipment, we suggest that a qualified electrician check all wiring and equipment to make sure they are safe to use.
For more information about our Quick Connect Panels and how they can help keep you and your staff safe when connecting an emergency power source, send us a message or call us 800-472-1158.
Let the experts at Power Temp Systems help you Put The POWER Where You Need It.