30 Years of Innovation
The key to success and longevity in any industry is being able to evolve. You have to be able to admit what didn't work and commit to reinventing yourself and evolving. Power Temp Systems has done just that. On our 30th year in business, we're here to celebrate our success and devote ourselves to another 30 years of innovation to meet the needs of our current and future customers.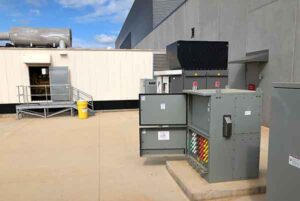 Power Temp Systems started out as a power distribution company that only sold smaller portable power distribution boxes, but now we are so much more than that. With the help of our loyal customers, we have morphed into a company that serves all aspects of the power distribution world. We now build a variety of equipment. Large or small, portable or permanent.
Our product catalog has grown extensively since the birth of our company, and so has our abilities as a company. We have also expanded into the custom equipment business to meet the specific needs of our customers. This aspect of our business has opened up so many doors to new opportunities and it's something we plan to continue to build upon.
 "We are so proud of where we are after 30 years of being in business," said Kent McLemore, Director of Sales and Marketing for Power Temp Systems.  "I know we have so much potential as a company that we haven't even tapped into yet. We'd like to thank our amazing employees and customers for helping us get to this point."
We are extremely excited about entering the next phase of our evolution. Our plans for 2021 and beyond are shaping up to be very exciting. We hope to share more information with you about those soon. In the meantime, you can count on Power Temp Systems to provide the high-quality equipment you have come to depend on and the "Service Beyond All Expectations" that you have come to expect from us.
We want to thank you for your business and support over the past 30 years and look forward to growing with you for 30 more.