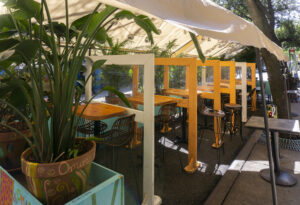 While normalcy is returning, it is undeniable that things have changed over the past year. When gathering, maintaining a social distance between others is important. Outdoor events are becoming more and more prevalent for things that normally aren't held outdoors. According to the CDC when you're outside, the fresh air that is constantly moving helps disperse and ventilate droplets that could spread COVID-19. So, you're less likely to breathe in enough of the respiratory droplets containing the virus that causes COVID-19 to become infected. The natural ventilation of the outdoors helps against the spread of COVID-19, so this influx of outdoor events is becoming very popular in our quest back to normalcy while remaining safe.  
For these events to be possible, power is a necessity when it comes to bringing these indoor accommodations outside. Events are being brought to large fields and parking lots with tons of room to spread out with safe distancing and ventilation. The one problem with these areas is that they usually don't have any sort of power source or power distribution capabilities. Making events like these happen takes an immense amount of power and power distribution equipment.  
From events like drive-in movies, outdoor dining parties, weddings, outdoor concerts, farmer's markets, and business events, these all need reliable power distribution to be possible. Equipment like lighting, sound systems, heating or cooling systems, food storage, and cooking equipment are just a few examples of the equipment being used at these events. With social distancing, this equipment is then required to be spaced out. Extra spacing means greater power distribution needs.  
Planning events in the "COVID Era" is stressful enough, the last thing you want to worry about at your event is if you have reliable power distribution equipment that will keep your event running without a hiccup. Equipment failure could really put a huge damper on a great event. The last thing you want to deal with is lighting in one section of your event going out, leaving a section of your event being unusable. That's why it's important to use power distribution equipment that you know you can trust, and that trust comes from using equipment that caters to the customer in all aspects, not just the sale or rental of the equipment. 
For your next event, Power Temp Systems has you covered. Whether it's a sale of brand-new equipment or rentals just for the event, we work to set you up with the correct power distribution equipment for the needs of your event. Whether it's temporary power centers, generator paralleling panels, or spider boxes, we can create a power distribution plan for your event. Contact the power distribution experts at Power Temp Systems to learn more about how we can provide high-quality power distribution at your next outdoor event with service you can trust.