A spider box is a portable power distribution center that is designed to be an economical way to distribute electrical power using a 250 VAC, single-phase power source. Regardless of where temporary power is required, spider boxes are the safest, most convenient, and economical way to provide electrical power to portable power tools, temporary lighting systems, and other job site electrical requirements.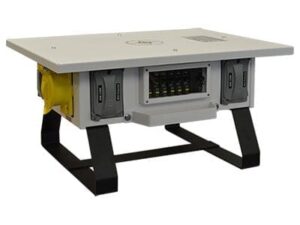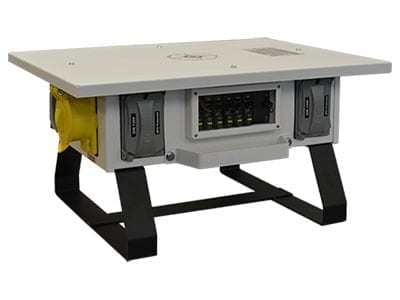 Contractors, miners, and companies that use electrical equipment often turn to spider boxes because they're one of the safest, most convenient, and economical ways to provide electricity to portable power tools, temporary lighting systems, and other electrical equipment.
One mistake project managers often make is buying a spider box, or several, without doing understanding the scope of work they are doing in comparison to how complex of a spider box set up they'll need. Think about your situation and electrical power requirements. The best rule of thumb is to identify what you need to supply power to and where then work your way back to the initial source of power. Then, design the spider box setup that will best meet your needs.
Other project details to look at before you buy a Spider Box:
The scope or distance of the system will need to cover, along with the load your system will be required to handle.
Whether the system you purchase will be a finite one or if it should be scalable.
Whether your equipment will be used at one location or many, and if the different ones have different requirements.
This method of planning can help you understand the amount of equipment you'll need to get power from your source to the location of the work. No matter, the industry you work in, you can tailor a spider box setup to your unique situation.
If you're working on a construction site, Spider Boxes can save you time, money, and hassle on the job site. Rather than having multiple generators on site, Spider Boxes can take the power from a central generator on site and distribute to all workers on the job site. Rather than having to rent multiple generators and pay for regular maintenance, there can be the lone generator on site which saves you and your company a ton of room on your budget.
Though Spider Boxes can save time and money, it's important to know how to properly and safely implement Spider Boxes on your project. When you use a spider box or temporary power system, you need to install grounded fault circuitry interrupters (GFCI) to protect yourself and the other workers on site. This will help ensure that no one becomes injured if electrical cords should become damaged or the system is compromised.
Spider boxes are designed to be rugged, durable, and dependable in even the most challenging situations and outdoor environments. On quality Spider Boxes, all the components are rated for outdoor use, making Spider Boxes ideal for disaster relief efforts. You can bring a portable generator and spider boxes into the affected areas during recovery efforts to power tools and utilities in the area.
With all aspects considered, you can configure a spider box system that perfectly meets whatever the project calls for whether it's on a construction site or leading hurricane efforts. Power Temp Systems can provide every necessary piece of equipment you made need along the way. Power Temp has many different solutions that allow you the greatest amount of flexibility when creating your spider box system.